Intern Spotlight: Kate Rogers
Every summer we cannot wait to welcome back interns into our building. Although this summer looked a lot different due to COVID-19, we are so excited to highlight each intern we had this summer!
Kate Rogers
School/Degree: Winona State University – Nursing and Spanish.
Internship: Warehouse Intern.
Kate is in her senior year at Winona State and her third summer as an intern with us. The first year Kate was a Purchasing Intern and the last two years she has been a Warehouse Intern. Outside of work and school Kate enjoys camping, four wheeling, and anything outdoors. She lived in Costa Rica for three months to finish her Spanish major during school, loves helping people, and figuring out how medicine and the body work.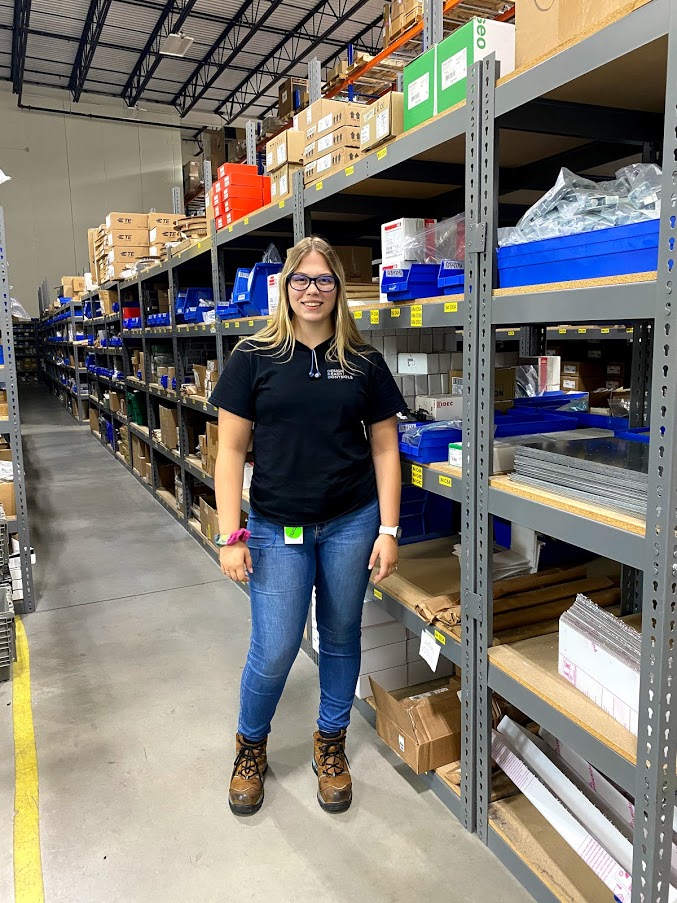 Wherever Kate is she is there to make it a better place. She will pull a lot of weight on the team and finds little things to improve on to make the organization a better place. Kate does a fantastic job. She shows up, plays by the rules and is there for her team.
What are your career goals going forward and how did this internship prepare you?: I want to go back to school eventually for surgical and become first assist. A nurse practitioner is two more years after your bachelors. So, I would like to take a year off or more from school to get into the nursing field and then go back. My internship here has given me a more professional "real" job experience. Before this I was a lifeguard, so this is a different (adult) setting. I am the youngest in my area so it's different and a good experience
Does This Internship Change Your Thoughts on Manufacturing and Your Opinion on Manufacturing as a Career?: I understand it more now. I also think it is entertaining to have a lot of different skills, I do not know about you, but how many nurses can drive an order picker?
Highlights of the Summer Here: My highlights would be organizing the warehouse, cycle counting, and helping with inventory!
What Are You Looking Forward to in the Next Year: I am looking forward to passing my boards and graduating.
Typical Day as an Intern Here: I come in and batch kit orders – so 5 to 34 kits at a time for the smaller lines. Then I might do our shortages or restock. I also worked on my internship projects which were organizing the warehouse and cycle counting.
Favorite Thing About Design Ready Controls: I love the work environment here. It is friendly and I like the people – I have made friends with a lot of people here.
Favorite Thing About Internship: I have been able to come back multiple years and getting to know the people – it's not as hard to adjust when coming back since I already know a lot of people and the environment.
What was it Like Having an Internship During COVID-19?: For my particular internship it was not really that different, people are still working on the production floor and in the warehouse.
Key Takeaway: It shows me what I want to do and my career path.
Featured Blog Post
Barcode Scanning at Design Ready Controls
March 22, 2022
Barcode Scanning: Where and Why At Design Ready Controls we use barcode scanning throughout our operations—in our warehouse, in shipping and receiving and at all workstations—to increase efficiency and reduce…
Sign Up to receive news directly to your inbox.
Follow us on your favorite social media.