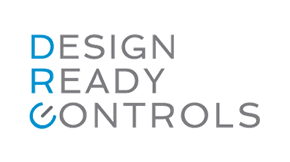 U.S. Deputy Under Secretary of the Navy Visits Design Ready Controls
Design Ready Controls welcomed Deputy Under Secretary of the Navy for Policy, Jodi Greene, to the company's headquarters and main manufacturing facility in Brooklyn Park. The visit was part of an outreach mission to her home state of Minnesota. This mission included learning more about education and training efforts in manufacturing and technology. With Greene was Lt. Commander Roger Reinert, a Reserve Public Affairs Officer in the Navy Office of Community Outreach.
Greene also visited students in science, technology, engineering and math (STEM) classes at Washington Technology Magnet School in St. Paul, MN. She said, "I had a chance to speak with local STEM students about exciting technology in the military—not only working with large projects like ships and planes, but of the many opportunities in smaller, very important support technologies."
In a short presentation, Mitchell DeJong, Ph.D., vice president of technology for Design Ready Controls, described the technical nature of the company's products and processes. He talked about partnering with the community and local education institutions to develop educated, skilled employees. "We're fighting old perceptions of manufacturing by showing we are a high tech company with high tech manufacturing jobs," said DeJong. Greene talked about how military veterans bring important skills and talent back to the business community. "From training and experience with cutting edge technology to discipline and teamwork, our veterans have very marketable skills," she said.
Joining the discussion on education-business partnerships was Merrill Irving, Jr., Ed.D., president of Hennepin Technical College, Yolanda Williams, D.M., vice president of workforce education, Hennepin Technical College, and Andrew Wittenborg, director of outreach and engagement at the Minnesota High Tech Association.
After the meeting, the group toured the company's advanced new manufacturing facility, led by Rob Holgate, plant manager, and Henry Guenther, human resources generalist.